A little while ago, we produced these large numbers for Rangers Football Club to advertise their Rangers Lotto Rollover Draw in their stadium which at the time was £22,000.
At 4ft high, the polystyrene numbers are a great way to promote the club's events and competitions!  The numbers were coated in a special coating to strengthen them, and then finished in a coloured matt emulsion.
The photos look great!  Thanks for sharing, Rangers!
www.rangers.co.uk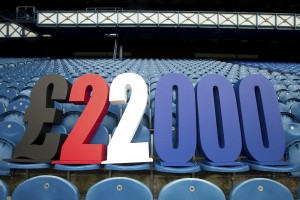 If you would like any more information on our large letters and logos, take a look at our website –
http://www.grahamsweet.com/polystyrene-letters/polystyrene-letters-signs-logos.php