Offering spectacular Christmas decorations, seasonal shapes, high quality display lettering and logos, and with the ability to fulfil bespoke requirements, our wide range of products has grown through our creativity and technical expertise. Customer service is of paramount importance to us, after all we have worked hard to build and maintain our reputation. We realise that key to providing this service is our team, and we actively look for ways to encourage our people to flourish. Providing interesting work, in a creative and supportive environment is a key ingredient of our success.
Constantly looking for ways to improve our business, in the last few of years we have tripled the size of our premises, allowing us to tackle larger jobs, and also launch our retail craft site (www.polycraftsupplies.co.uk), in direct response to enquiries from small businesses and individuals looking for lower volume orders. Growing with the business is important, however we have achieved an excellent balance between stability and flexibility, allowing us to undertake the most detailed of bespoke work, as well as large volume multi-store projects, without ever compromising on the quality or safety of our products. Continually embracing new ideas has moved us forward, and we strive to improve our service, products and working environment, to enable us to achieve all that we can.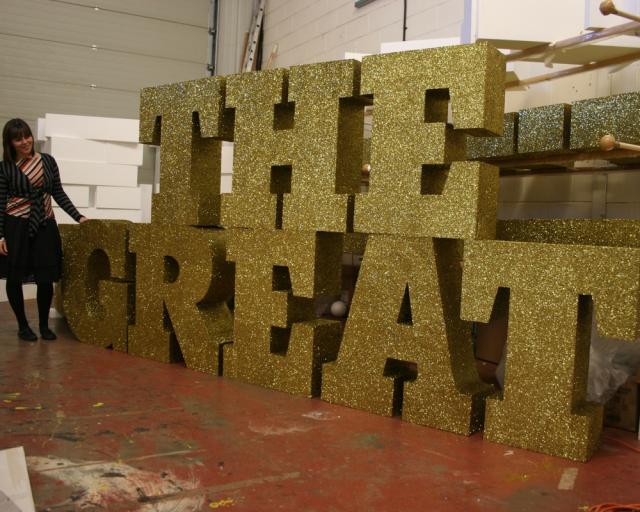 History
Graham Sweet Started his working career as a window Dresser at JAMES HOWELLS, Cardiff, under the direction of the late John Fear who had been Display manager there for many years. In his early 20's Graham and his friend Les Brookes travelled to New Zealand on a working holiday. Whilst in N.Z. the two young men pushed a hand cart (called "the Blob" ) from one end of NZ to the other. They were living off their savings and so during breaks on the walk they took up employment to earn Some money.
Graham worked as a window dresser in various Department Stores through out NZ. After two years in NZ Graham moved on to Australia where he worked in Sydney as a window Dresser at DAVID JONES Department Store.
He returned to Cardiff in 1968 and opened his first studio in October 1970. In the early years Graham invented a machine for cutting and shaping expanded polystyrene and other foam plastic materials. The machines were capable of cutting complex three dimensional designs in polystyrene with repeat patterns giving an almost infinite number of designs which could be produced. The business was able to expand from money that came from the sale of a Patent on the Profile cutting machine, to a Japanese company. The decorative sculptures produced on the new machine were used in Department stores throughout the UK.
In the 70's the Polystyrene Fabric Drapers were developed along with the Towel Folders, and these Drapers and Folders have become very popular in Department stores throughout the uk.
The late 80's saw the development of RUSTLITE and in 1996 the Studio was commissioned to build a 5 meter high Beam Engine for Messe Dusseldorf, to go in the main entrance hall for the EUROSHOP Exhibition. The machine had full movement synchronised with artificial Steam and sound effects.
In more recent years Graham Sweets studio has become more involved with the more technical side of cutting polystyrene, in particular their large Geodesic spheres, up to 2 meters and more in diameter, and Graham has personally been involved in the development of new machinery for the cutting of large solid polystyrene balls and other spherical shapes such as oval and tear drop shapes.
The Studio makes many and varied products in expanded polystyrene, for major department stores and companies in the UK. Our products have been exported to European countries, USA, Japan and Australia. Some of our Clients past and present: BHS, Marks & Spencer, Harrods, Littlewoods, Harveys, Jaeger,Debenhams, Allders, John Lewis Partnership, Austin Reed, Messe Dusseldorf Germany, Endress & Hauser Germany, Mitsui & Company Japan. AVF Holland, Roches Diffusion - France, Trust House Frote, Owen Owen Group, BBC TV, QVC London , Taiko Company LTD, Japan, and many more.