A throwback to last year when we produced these GRANDFEST letters for Royal Voluntary Service!  At approx. 4ft high, the letters make a great prop for outdoor events like GrandFest.
"GrandFest, proudly presented by Royal Voluntary Service, celebrates talented older people and the heritage skills that they can share with the younger generation." 
"…each festival has been created for the older generation to share skills such as knitting, crochet, wood turning and bread making through a series of Masterclasses. Taking over museums, shops, cafés and bars each Masterclass will be led by a talented original GrandMaker, aged 70 or over."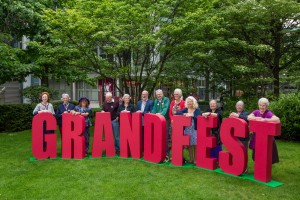 Thanks to Royal Voluntary Service for sharing these great photos with us!
Take a look at the Royal Voluntary Service website to find out more about GrandFest and the great work they do –
www.royalvoluntaryservice.org.uk
GrandFest's second festival of this year was held in St Fagans Museum of History on Sunday, 9th July.
If you would like to find out more about our large letters and logos, take a peek at our website –