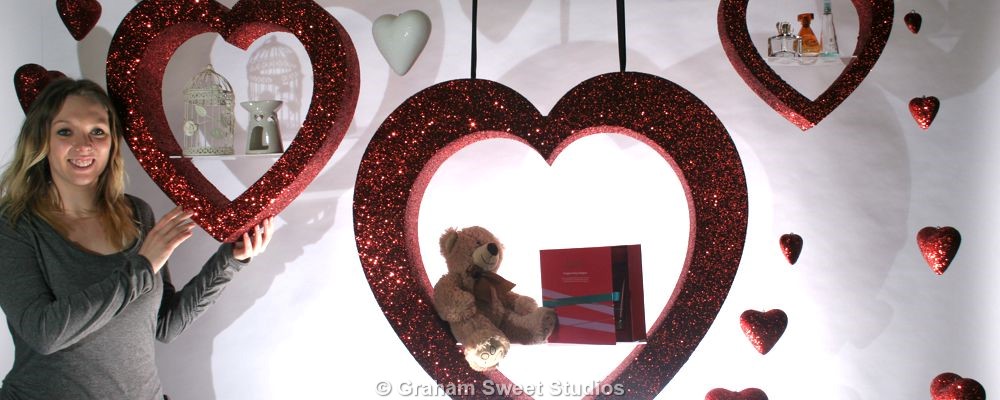 Valentines Gift Display
The hanging valentine Heart display shelves are available as hanging decorations at 380mm, 580mm and 877mm in size. Larger hearts can be produced on request.

The hearts can either be glittered in one colour, or have a different inner and outer colour of glitter.
Window Display
These heart sh elves are ideal for Valentines and mothers-day window and instore VM displays, and will also work with Christmas Display. They are light weight, but secure enough to safely hold most small gifts. Their dual function displays your merchandise, while being decorative items in their own right.
For heavier merchandise, we can reinforce the hearts so that they will hold up a much larger weight. These display units are great for Card and gif t shops, florists, jewellery stores and many others.
Free standing units
These Free standing Heart / Cupid units are available at 380 mm. 580mm and 877mm high. They will free stand in a window display, or look great on a shelf or ontop of a display unit.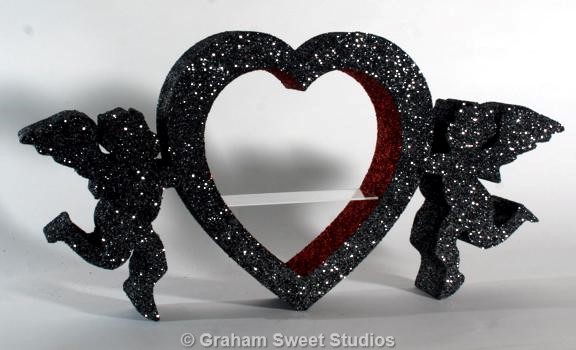 Trade Price List 2019
Discounts are available for larger orders
Any online orders under the value of £50.00 are subject to an additional £20.00 handling charge.
( Please note for telephone orders, the minimum order value is £125.00 )
All orders are subject to packing, carraige and vat.

VM Shelves

Curved Heart Shelves

300 mm Curved Heart VM Shelf
£65.00
300 mm Curved Heart VM Shelf - PACK of 5
£270.00
380 mm Curved Heart VM Shelf
£75.00
380 mm Curved Heart VM Shelf - PACK of 5
£295.00
568 mm Curved Heart VM Shelf
£120.00
568 mm Curved Heart VM Shelf - PACK OF 5
£460.00
877 mm Curved Heart VM Shelf
£225.00
877 mm Curved Heart VM Shelf - PACK OF 5
£888.00

VM Cupid-Heart Shelves

300 mm high VM Cupid-Heart VM Shelf
£67.00
380 mm high VM Cupid-Heart VM Shelf
£73.50
500 mm high VM Cupid-Heart VM Shelf
£96.00
580 mm high VM Cupid-Heart VM Shelf
£132.00

VM Heart shelves

300 mm Heart VM Shelf
£50.00
300 mm Heart VM Shelf - PACK of 5
£220.00
380 mm Heart VM Shelf
£63.95
380 mm Heart VM Shelf - PACK of 5
£246.84
568 mm Heart VM Shelf
£100.93
568 mm Heart VM Shelf - PACK OF 5
£387.09
877 mm Heart VM Shelf
£185.13
877 mm Heart VM Shelf - PACK OF 5
£740.52
Click on any photo for an enlargement
You may also be interested in: