With Valentine's Day on the way, we thought we would share some great photos of our Heart VM Display Shelves at Ener-chi salon a few years back.
Our Heart VM Display Shelves are perfect to display merchandise of all sizes.  Whether used within a window or in-store space, the shelves will make for an eye-catching display.  They worked well to display the pampering goodies on offer at ener-chi!
The Shelves look great suspended with come coloured ribbon to complete the scheme.  Available in a range of sizes and glitter colours, you'll be spoilt for choice!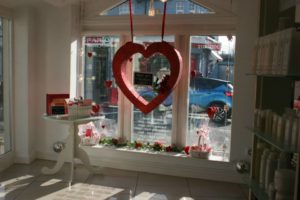 See here for more information on our Heart VM Display Shelves and our full range of Valentine's Day themed props and displays.