Bharti Parmar features as #week 12 of the commissioned artists to take over ITV's logo for the channel's new on-screen identity project called ITV Creates.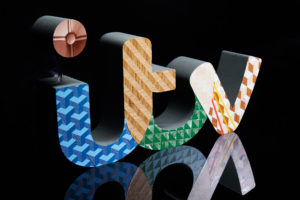 Photograph ©Theo Deproost 
Launched on January 1st 2019, every week new idents are showcased, with a different interpretation of ITV's logo created by a wide range of British artists from Turner Prize winners to emerging talent.
For ITV Creates, Bharti has conceptualised the ITV ident as a 3-D sculpture that exploits common principles and designs in marquetry. Designed in similar colourways to the existing logo, her interpretation cleverly subverts the scheme using decorative motifs.
See the YouTube clip below to find out more –
Our bespoke polystyrene letters were used as a base for Bharti's unique creation.  Great work!