We recently produced these metre high brightly coloured polystyrene letters and were thrilled to hear that A1 Media were pleased with them!
Thanks for sharing the photos – Great looking stand at Lux Live 2016!
"Through working with Graham Sweet over many years, we knew they could bring our exhibition stands to life with the giant A1 letters, colour-matched to our company's logos. The letters create a fantastic focal point to our stand. Graham Sweet completed our letters quickly and efficiently and provided excellent customer service throughout every step of the process. Thanks Graham Sweet – we look forward to continuing to work with you in the future!"
Award-winning A1 Media, publishers of A1 Retail Magazine, A1 Lighting Magazine and A1 Buyers Guide, bring you the latest news in your industry direct to your desk in the form of a magazine, website and e-newsletter. Both magazines, published 11 times a year in the form of a hard copy magazine and a digital edition, keep you updated with the latest news, changes and comments from key industry professionals. Our comprehensive websites, www.a1retailmagazine.com and www.a1lightingmagazine.com are also updated daily with current news, as well as events, case studies and opinions from key figures.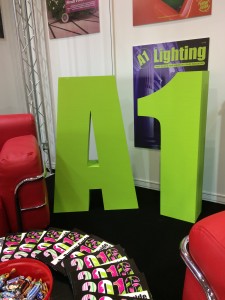 For more information on our large letters and logos, see our website –
www.grahamsweet.com