Middlesex University students celebrate in style with #MADEIT lettering!
A little while ago, we produced #MADEIT letters for Middlesex University. These letters stood at approximately 4ft tall, with individual bases which made a real impact with students on social media and on campus!
Middlesex University wanted to really celebrate with the new students, and to show them how proud they are of them getting the results they needed!  A huge well done from us too!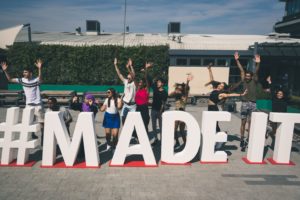 Students at Middlesex Uni celebrating their success on campus!
"the letters have been a smash! They worked so well in our video, they were bold and celebratory so they had a real impact. They created a buzz on social and on campus, and got the students talking and bonding as well as sharing pics and insta stories with them to celebrate their place at Middlesex University."
Our lettering is ideal for outdoor events, conferences and exhibitions. They can be freestanding or suspended and they are sure to make a bold impression.  These letters were used for indoor and outdoor events and coated in a special coating to help to protect them from the elements as well as the Middlesex Uni Karate Team!
"They're so well made, the service has been amazing, and we'll definitely be ordering more in future."
Thanks for sharing the great photos!
Looking to make your own statement?  Look no further.  Our 3D lettering can be produced in either Arial Bold or Impact Condensed as standard.  We can also produce various other fonts and create logos from as small as 50mm high to over 3 metres!
www.mdx.ac.uk
Follow Middlesex University on Facebook, Instagram and Twitter!
To find out more about Graham Sweet Studios and our range of products, see our website –
www.grahamsweet.com