Partying in style! – Event production and design by PUSH UK for ASOS
We recently produced these large glitter letters which were used for the ASOS Christmas party.
Finished with glitter and decorated with large gems, the letters definitely made an impact!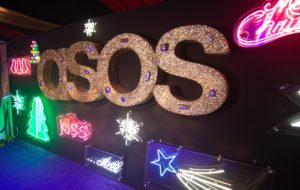 Photos courtesy of Push UK
Photos courtesy of Push UK
Thanks for sharing the great photos!
Large 3D letters are perfect for events and parties, both indoors and outdoors!
To find out more about our large glitter letters, and the range of other finishes available, see our website –