We have a great range of Valentine's props and decorations which are perfect to use in any retail store display or themed event.  From VM Heart Shelves to large free standing polystyrene letters, we have something to suit most!
We love these great displays with our VM Heart Shelves at Glenthorne Properties, London!
Our VM Heart Shelves are ideal to use to display gifts and other small items of merchandise, as well as being decorative items in their own right.  They are available in a range of sizes and are sure to transform any store window!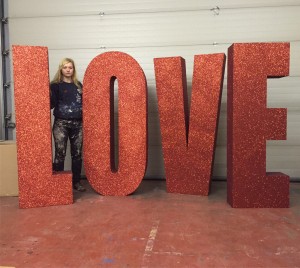 Why not say it with letters this Valentine's Day?  The letters can be produced in a range of fonts and sizes and they can be glittered or painted in a colour to suit almost any these or branding.
If you would like to find out more about our Valentine's props and decorations, take a look at our website –
http://www.grahamsweet.com/valentine-display-props/st-valentines-displays.php