We produced these 3D gold glitter letters for a beautiful bride who got married last September.  The letters were the perfect prop outside the wedding venue, and were a great feature for photos on the day.
The K&M letters were 900mm high x 200mm thick, and covered all over in gold glitter.  As the letters were to go outside, we also produced clear acrylic bases to help the letters stand.  We are so happy with the result!
Take a peek at these gorgeous photographs we were sent.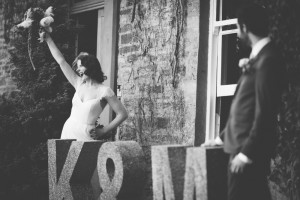 Our bride had these lovely words to say…
"Between getting engaged and getting married, the LOVE light box letters I'd been interested in appeared in every wedding blog and magazine out there. But I reeeally wanted some sparkles for the day and if you can't bling up your own wedding when the hell can you?? Enter Graham Sweet Studios and your crazy array of sparkle clad shapes.  I'm so glad that I called and asked for a quote for my glittery letters – they were the perfect touch to my venue!
Thanks for all your help, I know there is a distinct possibility that I was a bridezilla as I was picking between your various golds and maximising the depth of letters in order to fit them in the car!
Anyway, the photos are amazing. Thank you so much for my extra sparkles. Our pics are by Tcmphotography and we are lucky enough to feature on his blog. Here is a link in case you want to eyeball more photos from the day! – http://www.tcmphotography.co.za/portfolio/wedding-photographers-durban-south-africa, https://vimeo.com/139912835?ref=fb-share.
Lots of love, Kim (recovering Bridezilla) xxx"
For more information on our large glittered letters, take a look at the link below –
 http://www.grahamsweet.com/polystyrene-letters/glittered-polystyrene-letters.php