We recently produced these 2m high patterned letters for Hot Pickle for the Campari Creates event in London.
Campari Creates has popped up at Kings Cross for 10 days with Campari Cocktails. The activation includes a beautiful art installation build by Hot Pickle and designed by Eley Kishimoto on behalf of Campari, bringing the spirit of Milan to London by showcasing two of Milan's greatest exports: Campari and creativity.
The letters are on display until Sunday 24th September at Granary Square, King's Cross, so if you're in central London over the weekend, pop down to see the letters and get involved with this exciting event!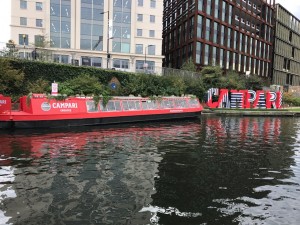 To find out more about London based independent creative agency, Hot Pickle, take a peek at their website –
The letters were produced in our Cardiff based studios.  Here's a photo of a member of our team in action!
To see more of the large letters we produce and a range of our products, see our website –
www.grahamsweet.com