We love this EGGCELLENT themed Easter display at Glenthorne properties, London.  We are always excited to see what our customers have done with our products!
Thanks for sharing the great photo!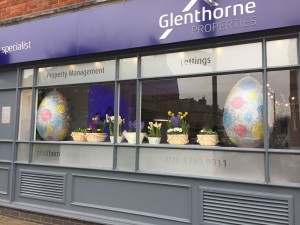 At 900mm high, the spotted glittered eggs make great props in the spring window display.  As well as spotted, we can decorate the eggs with stripes and even more bespoke designs suited to our customers' branding.
For more information on our Easter display, take a peek at our website –
http://www.grahamsweet.com/easter_display/easter_seasonal_display.php
To find out more about Glenthorne Properties, take a look at their website –