Here's a little throwback for this windy Thursday!
Last year we produced these glitter numbers to celebrate the opening of the 500th store at Baums Lane in Mansfield!  At around 4ft high, the letters make a great focal point for this photo shoot, and the blue glitter colour on the numbers has worked well with the store's branding.  We love the balloons too 🙂
Thanks for sharing the great photo!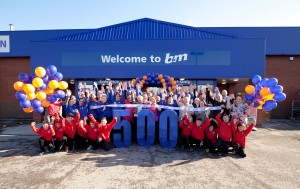 www.bmstores.co.uk
If you would like to find out more about our large letters and logos, take a peek at our website.  We produce a wide range of polystyrene numbers, letters, logos and more at our studios in the UK.
www.grahamsweet.com