A little earlier this year, we produced these 3D #HAPPYWOOD letters for display at Happywood, which was a month-long event that aimed to transform Heywood into a town of pure happiness the whole of August – and hopefully beyond.
The launch was held Queen's Park with a flash mob and bubbles, followed by a magical woodland themed summer fayre!
The event, along with the 3ft high #HAPPYWOOD logo, continued to spread happiness all around Heywood, with the letters popping up at different locations around the town.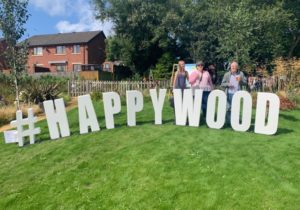 Take a peek at @hoorayforhappywood for more photos of the events, and to find out more about these great events.
We're so pleased that the events were a great success.  Thanks for sharing the fabulous photos with us!
Find out more about our 3D polystyrene letters at www.grahamsweet.com