The festive season is fast approaching, and what better way to decorate your stores and venues than with some giant glitter baubles!
Our glitter baubles are available in sizes from 300mm diameter up to 1500mm diameter, and in a wide selection of glitter colours to suit almost any scheme or branding!  They look fabulous suspended within a small or large space, and they are sure to make an impact wherever they are used!

As well as the standard glitter finish, we recently launched FineRock which is ideal if you are looking for something different this year.
Don't forget to ask us about biodegradable glitter too!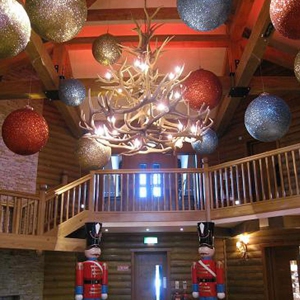 In addition to our glitter baubles, we also produce a wide range of other Christmas props and decorations, including polystyrene snowflakes, VM display shelves, snowmen, penguins and more!
Get in touch today to find out how we can help you to achieve your festive wonderland this Christmas.
Call us : 02920 522 510
email us: sales@grahamsweet.com
The majority of our Christmas product are designed and manufactured at our studios in the UK, meaning we can offer a fast turnaround!