What better way to kick off the Pride celebrations at Aviva than with brightly coloured 3D letters!
The letters were faced with MDF front and back for additional strength, and laminated with printed vinyl which ties in perfectly with Aviva's branding.  At approx 3ft high, the letters are a great way to attract interest and promote the fabulous events.
Thank you Aviva for sharing with us!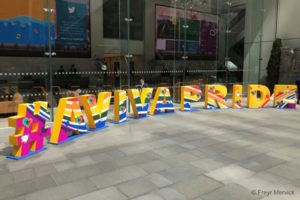 Who wouldn't want their photo taken with these fantastic props!
To find out more about Aviva's Pride events this summer, follow #AVIVAPRIDE on Twitter.
@AvivaPride  @marcocorrado10  @thatfreyr
Spot Aviva Pride at Pride parades throughout the UK: London – July 6th; Worthing & Bristol – July 13th; Norwich & Sheffield – July 27th
We couldn't resist having some photos with the letters before they left us!
To find out more about large bespoke letters at Graham Sweet Studios, take a peek at our website.
For all enquiries, call us on 029 20 522 510 or drop us an email to sales@grahamsweet.com