We really love to see our letters in use – especially when we receive great photos like these!
Photo credit: MANvFAT
The letters were created for the MAN v FAT Festival, the UK's largest Men's health event.
It took place on 20th July at The City Football Academy in Manchester with over 1,000 men attending.
The main event was the MAN v FAT Football National Tournament, 80 teams took part and the winners pictured were Stokoes Goblins, from Preston.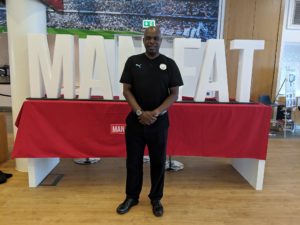 Photo credit: MANvFAT
Pictured: Man City legend and City in the Community ambassador Alex Williams MBE who was at the event.
Thanks for sharing with us!
To find out more about MANvFAT, see the links below –
https://www.manvfatfootball.org
For more information on our large 3D letters at Graham Sweet Studios, see our website.