We always love to see our products being used in different ways by our customers!
This Christmas photo shoot by WED2B with our large red glitter bauble looks fantastic!
Thanks for sharing the great photos with us!
WED2B is the UK's largest and most affordable bridal retailer. All of their UK designed wedding dresses are sold off-the-peg, so you can take your dream dress home with you the very same day. With bridal shops nationwide open 7 days a week, you don't need an appointment and can visit at your own convenience.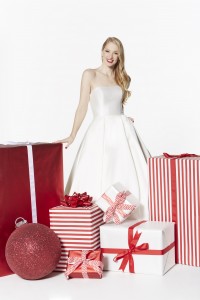 To find out more about WED2B, take a peek at their website – www.wed2b.co.uk
Facebook – WED2B
Instagram – @wed2b
For more information on our range of display props and decorations, see our website – www.grahamsweet.com