We love this Valentine's display with our VM Heart Shelves at Salon Ten!
The heart shelves are ideal to use to display most small items of merchandise including perfumes, beauty products and other small gifts.  They make the perfect prop for Valentine's Day themed window displays!
Finished all over with red glitter, the heart shelves are sure to draw attention from passers by!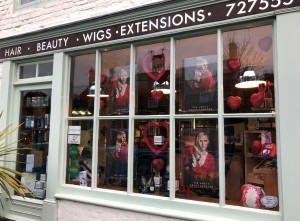 To find out more about Salon Ten, visit their website –
www.salonten.co.uk
 Twitter @salontenltd  / Facebook salontenltd
If you would like to see the full range of products at Graham Sweet Studios, take a look at our website –
www.grahamsweet.com