Size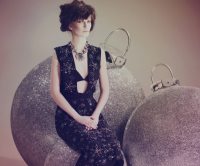 The baubles, balls and other shapes are available from 30mm, to over 2000 mm in diameter.
Colour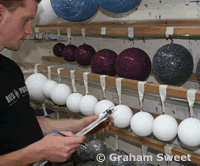 There is a wide range of coloured glitter available, including red, black ,green, silver, gold, gunmetal, and many more. We now offer a range of frosted colours, which can be closely matched to a Pantone or paint number.
Packing and delivery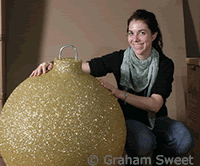 Depending on the size of your order, and the size of the baubles, we will either send your goods with an overnight courier such as TNT, or on a dedicated door to door service. All the baubles are packed well to prevent damage.
Traditional Shape.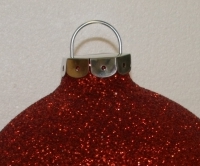 The larger glittered baubles have a shaped top (as above) as standard, with a half circle hanging loop. Different shapes are available on request.
Round Glitter Balls.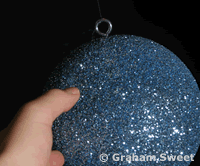 As standard, the 30mm to 250 mm baubles have a round top, and circular hanging loop. Shaped tops are available on request.
Other Shapes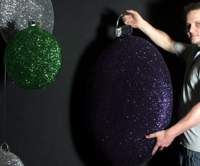 As well as the standard round bauble and ball shapes, we also have a range of other 3d hanging christmas shapes. Please click here for more info.
Material.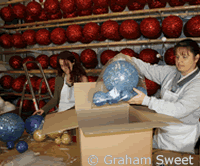 When manufacturing the baubles, we use a good display grade expanded polystyrene. We only use EPS that contains a flame retarding additive. When applying the glitter finish , we DO NOT USE A FLAMMABLE ADHESIVE such as P.V.A. - Instead we use a special substance that acts as a flame retarding membrane, encapsulating the polystyrene. This substance also greatly increases the strength of the bauble.
Secure Hanging Points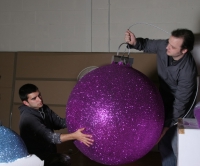 As Standard, we fit secure hanging points to the glittered baubles. On the 390mm and larger baubles, these hanging points are bolted through the ball from top to bottom. All fixings are hidden, just leaving the traditional loop, or a small eye nut, at the top. For an additional charge, the fixings can be individually tested and a certificate supplied.
Lead Times.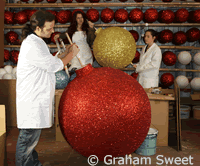 The glittered baubles are manufactured in our studios in Cardiff ( UK ) This means that generally we can offer a quick turnaround. Please be aware that as we get closer to Christmas, these Lead times can increase.
Graham Sweet Studios Ltd
•Founded in 1969, incorporated 2021
• Retail Display • 3d Graphics • Props • Technical • Polystyrene Specialists
Please note that we are not open to the public. If you need to see us in person, please call to arrange an appointment.
Contact Info:
Contact us Sales: 029 20 522 510
International Dialing: +44 29 20 522 510
sales@grahamsweet.com

Graham Sweet Studios
Units 6 7 & 8 Clos Menter.
Excelsior Industrial Estate.
Western Avenue
Cardiff
CF14 3AY
United Kingdom.
All content, images and designs © Graham Sweet Studios Limited
Graham Sweet studios Ltd, is a limited company registered in England and Wales with registered number 13562479