We recently produced these large colourful HOCKEY letters which were used at the Women's EuroHockey Championship II, Cardiff in August this year.
At 5ft high, the letters were sure to create an impact at the event.  The letters were coated with a special coating to protect the them, and finished matt in a range of colours to match the Welsh flag.  Supplied with plywood bases, the letters also had pegs which were used to fix the letters to a grass surface, meaning the letters stood more stable on site.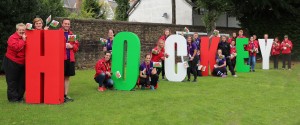 We LOVE these photographs of the letters in use – they make great props for snaps and visitor engagement!
Thanks for sharing the great pics!
#EHC2017 #playingforthedragon

To find out more about Hockey Wales and any upcoming events, take a peek at the social media pages below –
Twitter: @HockeyWales
Facebook page: Hockey Wales
Instagram: hockey_wales
Take a look at our website for more information on our large 3D letters and logos –
www.grahamsweet.com