With flu season out in force, our 3D flu bugs are great props to display at a range of venues and locations to promote good hygiene and hand washing, in particular at doctors surgeries and other healthcare buildings.
The bug shapes are available in a range of sizes and different designs, and they can they can be coloured to suit a particular theme or branding.
See here for more information on our 3D flu bug props.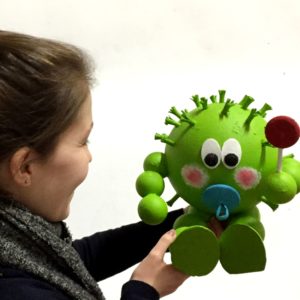 Our 3D bugs are designed and manufactured at our studios in the UK. They are produced from expanded polystyrene containing a flame retarding additive. This makes them lightweight, and suitable for sitting on shelves, and suspending if required.  The polystyrene core is then coated with a reinforcing coating, which makes them considerably stronger than un-coated polystyrene, without being a hard coating.  This makes the props ideal to use at a wide range of locations.