Our 3D letters are expanding! We are pleased to announce our NEW cardboard letters for 2020.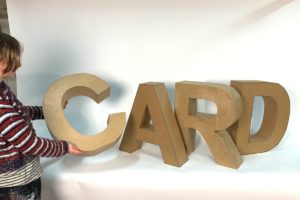 For our customers looking for something a little different to our polystyrene and wooden letters, we now also produce cardboard and papier mache letters.
We use a thick double ply cardboard as the starting point for all our cardboard letters. We can then edge these with a single ply cardboard – which gives a nice "framed" effect, or thin, more flexible card – for a smoother, less faceted curve. The 3D letters can then be left as plain card / cardboard – or finished with a layer of paper mache – which gives a patchwork textured effect – as well as adding considerable strength to the letters.
As the cardboard letters are hollow, if you need to dispose of them – they will flatten down to a fraction of their original volume.
Our cardboard letters have been developed and produced at our studios in the UK.
See here for more information on our 3D cardboard letters and logos.