We recently produced these brightly coloured glittered Squashed Baubles for Aspire-igen's new Headquarters in Bradford City Centre.  They look great hanging in the large windows!  Here are some photos of the team setting up!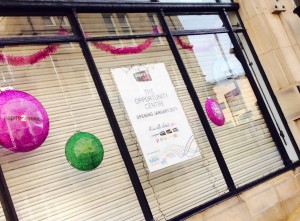 Graham Sweet Studios produced the baubles, and Aspire-igen applied the logos.  The baubles can be hung in the windows with some ribbon or thread, and they make a great display both from within the offices and to passers by from the street outside.
Our Squashed Baubles are ideal if you have limited space in your window display, as they are narrower than our regular baubles while still creating an impact.
For more information on our Squashed Baubles and other Christmas display products, take a look at our website –
If you would like to find out more about Aspire-igen, take a peek at the links below –
https://www.facebook.com/Aspireigen/
https://twitter.com/Aspireigen
_____________________________________________________________________________________________________________